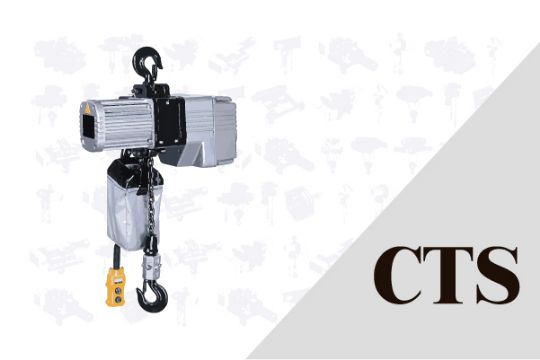 CTS (Hook type)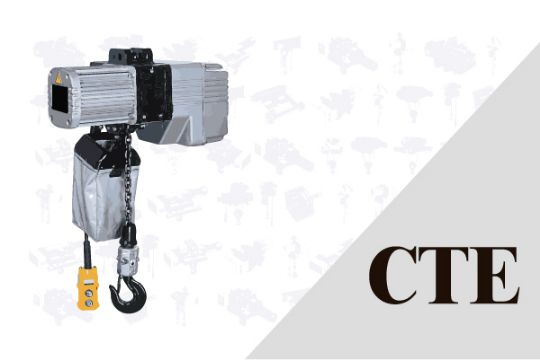 CTE (Lug type)
CTD (Motorised, monorail-trolley type)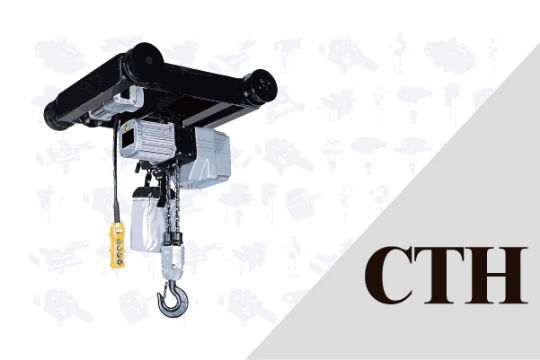 CTH (Double-girder, Top-running-trolley type)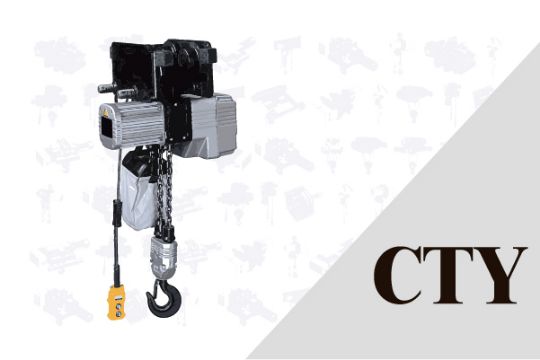 CTY (Plain-trolley type)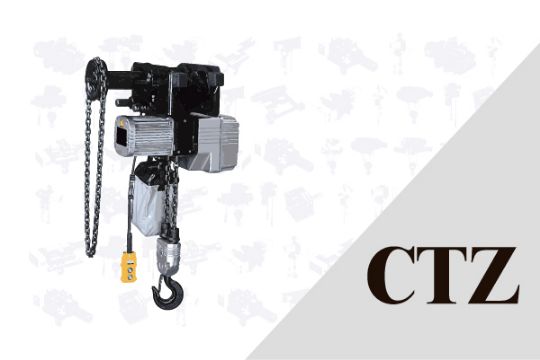 CTZ (Geared-trolley type)
Frame&Housing:
●The load-supporting frame is cast in one piece from aluminum alloy by gravity die-casting(TYPE CT03 , CT07 , CT15 and CT30) or nodular cast iron (TYPE CT45 , CT60 and CT75 ) to ensure structural integrity.

●Lightweight modular design has fewer parts and is easy to install and maintain.

●Frame and control enclosure are IP55 weather protected against ingress of dust and water.
●Baked finish gives the frame superior resistance to harmful environments.
(Patent#055843.)

HOIST BRAKE

●DC disc brake with two flat-faced brakes discs(asbestos free) with a life of more than 1 million actuations , patent pending.
●Oversized brake disc's lower surface stress and prolong brake life , frequent adjustments are not necessary. 
 ●Holding brake can be manually released to lower the load in the event of a power failure or malfunction without special tools.

OVERLOADLIMIT

●New Design:The load-limiting clutch does not break the kinetic bond between the holding brake and the lifted load , patent pending. 
●External Access:The hoist gearbox does not have to be disassembled to service the load-limiting clutch.

EXTRA HEAVY DUTY HOIST CONTROL

●Telemecanique ( Square D ) magnetic contactors chosen specifically for extra heavy-duty service have a rated life of more than one million cycles. 
●Reversing contactors are mechanically interlocked for added safety. 
●24 Volt , low voltage control transformer standard. (48 Volt option.)

GEAR BOX

●Multi-Stage high performance gear train , gear teeth are precision machined for long life and quiet operation. 
●Planetary gear drive used for the final high torque reduction , all forces are balanced. 
●Permanently lubricated for life.

PUSH BUTTON STATION

●Molded reinforced high insulation plastic housing is impact , weather , corrosion and fire resistant. 
●Double insulated design. 
 ●Push button switches are mechanically interlocked for added safety. 
 ●Strain relief cable is molded into the pendant cord.

TRUE MODULAR DESIGN

●Hoist motor can be removed with the hoist fully loaded. Chain sprocket can be removed without disassembling the gearbox . Load limiting clutch can be serviced without opening the gearbox . 
●Plug in the push button and power cord.

CHAIN SPROCKET

●CNC machined alloy steel lifting sprocket is heat treated for maximum performance. 
●High precision chain sprocket has more than 5 times the life of an investment casting sprocket. 
●Advanced modular design enables replacement of the lifting sprocket without dismantling the hoist gearbox and without the use of special tools.

LIMIT SWITCH

●Upper and lower limit switches can be adjusted to stop the hook in any position. 
●Limit switch has built in chain guides to safely stop the load in the event of twisted or damaged chain, also prevents non-vertical lifting.

LOAD CHAIN

●Grade 80 super alloy load chain is precisely calibrated and heat-treated for long life. 
●Safety factor is more than 6-1.
●Surface hardened chain standard. 
●Non-Acid processing galvanized plating chain can be choosed for resistance against corrosion.

HOOK

●Drop forged from alloy steel and heat-treated for strength and toughness , will not fracture but open slowly when overloaded. 
●Equipped with safety latch and 360° swivel hook.

HOIST MOTOR

●Squirrel cage parallel rotor motor designed specifically for hoist duty. 
●Modular design facilitates maintenance , the hoist motor can be removed with the hoist fully loaded for testing and or replacement.
●Separate mounting of the motor and brake prevent local heat buildup. 
●Motor housing is extruded from aluminum alloy. 
●Cooling fins increase surface area for maximum heat radiation. 
●Class H insulation standard 180°C rise from 40°C ambient. 
●Thermal protection via 145°C rated N.C. overload switch embedded in motor windings. 
●Duty rating is 60%ED , 360 starts per hour for single speed three phase hoist , equal to HMI Classification H4. 
●TENV and IP54 totally enclosed construction can withstand harsh environments. ( IP55 option.) 
●Single speed 4 pole ( 1800 RPM ) motor standard , two speed-two winding 4/12 pole(1800/600 RPM) 3/1 ratio motor and control optional.